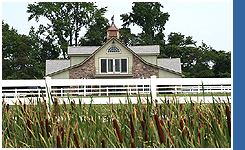 Welcome to one of the most beautifully constructed waterfront horse facilities on the Eastern Shore of Maryland – Avel Farm. With the name Avel meaning "wind" in the Breton language (and is the name of a classic yacht built in southern England in 1896) it serves well as it captures many of the scenic values of the Shore's waterfront living.

Avel Farm is a newly constructed, waterfront horse facility located on the shore of the Eastern Bay, just minutes from Historic, downtown Easton, Maryland: http://www.eastonmd.org. While Avel Farm hosts a multitude of natural amenities, none is more enjoyable, or memorable, than the Eastern Bay's sunsets and west winds as they roll over its shores and pastures. Avel is also home to an inspiring array of wildlife which populates the Eastern Shore. There are nesting Osprey, Bald Eagles, Great Blue Herons, swans, geese, ducks, deer, muskrats and foxes - quite a menagerie of wildlife. These features, along with spectacular sunsets make Avel Farm a truly magnificent and peaceful place to live.
Local Amenities:
Historic waterfront vacation towns like Oxford and St. Michaels nearby
Chesapeake Bay views - 15 minute drive or by boat
40 miles to Annapolis; 65 Miles to Washington DC; 60 miles to Baltimore
Sophisticated shopping, truly an art form in historic Easton, with designer clothing, fine art
and jewelry, and one-of-a-kind gifts
Conference and meeting facilities close by: www.aspenwyeriver.com
Numerous public golf courses: List of Golf Courses
The Chesapeake Bay and its tributaries close by for sailing, canoeing, kayaking, and crabbing
For more information, please contact:
Mark & Anna Morris
410-353-3147
MorrisMarkL@yahoo.com


Please visit the other pages of our website to see photo galleries of the farm's amenities
and property descriptions. Thank you.